While preparing to paint the exterior of our house, in addition to
removing trees
, we determined that most of the cedar trim was in total disrepair. Completely rotted and disintegrating. Awesome.
So we got a few estimates and the work to replace all the trim (including the four column posts on the front porch) begins tomorrow. I'm so excited. Almost as excited as I am for the day the painting will start.
We continue to apologize to neighbors as we see them. One was nice enough to say, "I like the
new chairs you have on the front porch
. Are you going to replace the shutters?" This makes me laugh a little bit. Thankfully it is almost over.
We decided on SW Pewter Tankard as the field color, SW Extra White as our trim color and we're purchasing black vinyl shutters from Home Depot (so we don't have to paint those). And the front door will likely be SW LeapFrog. You can see the original color dilemma post
here
.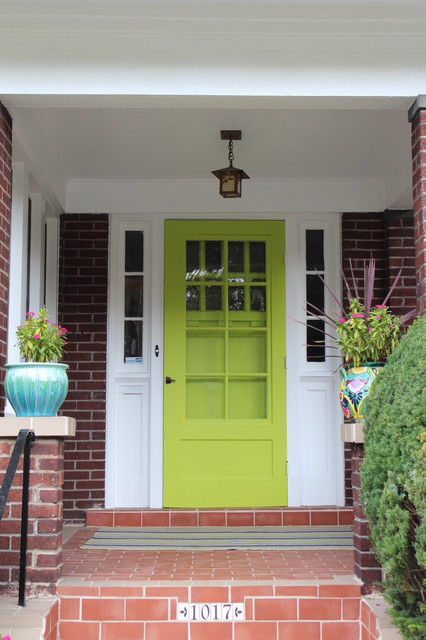 We had a limey green front door at our old house (until the silly HOA decided they didn't like the color). I can't WAIT to have one again! Source

Sherwin Williams Pewter Tankard
And just to add to the fun, we're getting a new sidewalk on Saturday. I'll be sure to take before and after pictures.
Ahh, once that paint is done, I'll be so close to completing one of
my New Year's Style Resolutions
.
~Karli